By Marshall Cherrington
Wednesday Wanderings is a weekly column written by Editor-in Chief and creator of the Sports Soup Network, Marshall Cherrington. He brings you all of his weekly thoughts pertaining to Seattle sports, and anything else for that matter.
I never knew a person named Percy could excite me so much. I've come to love the name now and I haven't even seen this person play on the team I want to see him play on. What an amazing phenomenon. Just imagine what he'll do to all of our minds once we see him play. Yeah, I'm with you there. You just can't even imagine it!
Enough with the Percy Harvin love fest. It was another rousing week in Seattle sports and even though I don't have all the time in the world to talk about the week with you guys today, I still have some thoughts to pass along. First, I want to send my condolences to the entire family of Don James. It was tough to learn that the best Husky coach ever had passed away. Even though I wasn't around during his coaching days, I could just tell how amazing he was from the things I heard about him from an abundance of people. Don James is a name that will, and already has, gone down in eternal history. The man is legend.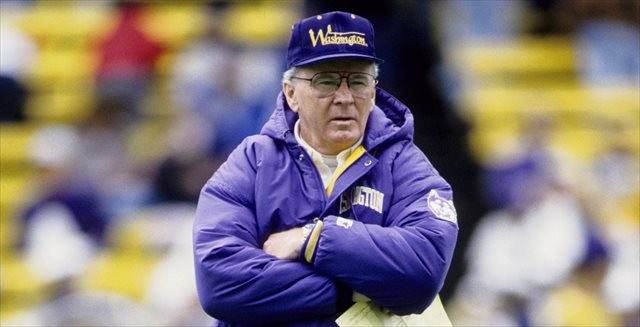 There will never again be a Huskies coach like Don James.
USATSI
I think some people are glad the Sounders didn't play this week so they wouldn't have to suffer through a period of depression all over again. With the news coming out of the weird distaste between Eddie Johnson and Sigi Schmid, I think it's good that this team is on a short break. Eddie reminds me of a girl, posting all of these heartfelt quotes on Instagram that are clearly direct shots at the Sounders front office. I'm surprised he hasn't indirect tweeted yet either. Just play the game man. Let's go.
What a terrible week for the Montlake Dawgs. First they get hammered at Arizona State (which has happened to people many times before), then the best coach in their history passes away, and finally, a recruit most Husky fans and analysts thought the Huskies would get, Layth Friekh, commits to Arizona. However, I see a change in momentum coming to Montlake this week in the California Bears, a team Washington should beat by at least three touchdowns. You're supposed to find a momentum changer within your own team, but there's no need for that with the Bears in town.
But back to my thoughts on the Arizona State game. I think Keith Price might have played his worst game as a Husky. Sure, you can use those excuses that his offensive line was banged up and that he was hurt, but he missed plenty of wide open throws. Kasen Williams didn't sound too happy about that post game. I was pretty shocked to see Keith playing that bad, and I think he was shocked himself. It's certainly not what I have come to expect out of him this year. That's what happens when you start to play well. All expectations rise to a whole other level. Just ask Sark about it.
Speaking of Sark, he will not be fired anytime soon. Nope. All of you fans calling for his job should just rest your voices. The team could easily finish 7-5 in the regular season and if this happens, then I think you can begin to criticize Sark, but for now, even after losing three straight games, I just don't think a firing is anywhere near the front of AD Scott Woodward's mind.
With Keith Price being a little banged up, I think Sark should sit him and play Cyler Miles for the next two games, or at least one game. Colorado and Cal are doozies of opponents and I think it's always good to get the backup some experience. Because we all know, it's only a matter of time until Keith gets planted on his behind against a team like Oregon State or UCLA. I'm calling that the Huskies go 4-1 the rest of the way, with the lone loss coming against UCLA. But most of you probably won't take my prediction into much consideration, knowing I was 0-3 on my Saturday picks this past weekend (UCLA, UW and USC all lost). Thanks for letting me know about it Joey Calabro. Appreciate it. Tons.
Now on to those always eventful Seahawks. It was quite a week for the Hawks as they started it off with a win against Arizona and then learned that All-Star WR Percy Harvin would be back practicing with the team on Tuesday. Add in the fact that the team signed a needed veteran leader in Michael Robinson, and you have one of the best weeks of the season right there.
Percy Harvin is already laughing at how good this team will be once he returns.
The Seattle Times
One thing that really impressed me while watching the Arizona game was Russell Wilson's arm. Up to this point in the season, Russell's been throwing okay balls to his wide receivers, as some have been overthrown and just a bit off of the line they needed to be on. But on Thursday, Russell was on point. All you needed to watch was the Seahawks' opening drive and you knew Russell was poised for another one of his big games (that's what I did). I don't expect anything different against the lowly Rams this upcoming Monday night. I thought the Rams were just starting to turn the corner too. The NFC West is always better with a good Rams team. However, this Rams team is terrible. Think the Hawks will win it, 38-17.
How about the NBA season getting started up? Hopefully my Knicks will have another solid year with ball hog #7 at the helm. But probably not. If the Knicks are ever going to win a championship, it will be without Melo. He's too much of a liability on defense and the ball gets stagnant when he's in his "takeover" mindset, which happens far too often for my liking. My pick to win it all this year: the Indiana Pacers. Granger, George, Hibbert, Hill, West and Stephenson make up what is the best overall team in the NBA. No weaknesses on that roster.
The NBA better watch out for the Indiana Pacers. LeBron, that means you.
That's it for this edition of Wednesday Wanderings and I'm sure you all enjoyed the shortest version yet. Nobody commented on the last one, even though I asked them to, so please, for me, just comment below. I'm dying for that notification saying "one comment awaiting verification". Please me, Seattle sports nation, please me. Can't wait to come back next week talking about the huge Seahawk and Husky wins. Have a good week everybody.
--
Thanks for reading and follow us on Twitter @seasportssoup! Like us on Facebook as well. Keep checking back for more updates.