By Jackson Safon
A 38-24 loss on the road to a playoff team is not a bad loss. I repeat, it is not a bad loss. The immediate reaction from many Seattle sports fans is panic, but this should not be the case. The Colts were a playoff team last year and are even better this year. Plus, to have been 4-0 going into the game is probably better than expected, so as I saw it put multiple times on Twitter, the Hawks were "playing with house money." Having a record of 4-1 through five games would have been considered a success before the season, so the Hawks didn't have much to lose. However, they eventually lost the game and lost their position as the top team in the NFC. This being the first loss of the year, the takeaways are more important than ever.
1. The Legion of Boom is mortal
The defensive backfield got torched. It may have been only 229 yards and two touchdowns, which is not nearly the most they will allow this season, but they got torched nonetheless. Whether it be the 73 yard touchdown to T.Y. Hilton or the consistent third down conversions to Reggie Wayne, Andrew Luck and the Colts sliced through the Seahawks pass defense like a hot knife through butter. It is important to remember that the defense cannot play perfect every game and they will learn from this. Obviously letting up consistent big plays like they did today can't be tolerated the rest of the season, but the good news is that the Legion of Boom is not only talented, but smart as well. They will study the tape like no other and learn from this. I do not expect mistakes of this magnitude for the rest of the season.
2. The boys are back
Bruce Irvin and Chris Clemons are back and better than ever. This was Irvin's first game of the season after a four game suspension and although it was Clemons' third game back, he has still been working to get back to full strength from his ACL injury. Irvin made an impact from the get go with a tackle for loss on the second play and a sack later in the game. Clemons made an impact later in the game as well with a huge sack-fumble on Andrew Luck. With Clemons getting back into the swing of things and Irvin returning from injury, the defensive front is now fully healthy. This group will only continue to improve as they continue to work together, and a unit lead by Clemons, Irvin, Avril, and Michael Bennett is going to be a fantastic one.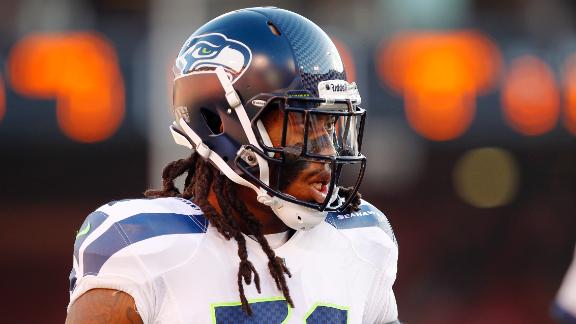 Bruce Irvin played well coming off a four game suspension.
ESPN.com
3. The offensive line play is improving
With the Hawks still missing their starting center and both starting tackles, the offensive line is still depleted, but the group played considerably better than last week. Granted, last week they played a stout Texans defensive line, but as a whole the Hawks offensive line played better. Wilson had much more time to work which allowed the passing game to flourish much more than last week. Wilson had a career high in rushing yards, mostly on scrambles, which would imply that the offensive line wasn't giving him much time, but I wouldn't necessarily agree. There were simply lots of openings for Wilson to run and I am extremely encouraged by the offensive line play going forward.
Thanks for reading and follow us on Twitter @seasportssoup! Like us on Facebook as well. Keep checking back for more updates!