By: Jackson Safon
Your Seattle Seahawks are Super Bowl champions. Say it again. And again. And again. And again. You can say it over and over again for at least 363 more days and it will be the truth the entire time. I have had the good fortune of being a Boston sports fan my entire life, so this is not my first championship, however; it is the first time my hometown city has won a championship. Let me tell you, it is very very different. The togetherness of this city is remarkable. The fact that there is even a conversation being had about cancelling school for the victory parade on Wednesday is proof that this city is crazy about its Seahawks. The pure elation that this entire city felt yesterday, from 3:40 PM onward is absolutely incredible. Even when the excitement starts to wear off, you will always know that 2014 will be a great year because every single day in it, the Seattle Seahawks will still be world champions.
That is the title of the newest edition of Sports Illustrated and I think it sums it up pretty well. The Seahawks dominated the Broncos from the opening kickoff. You don't have to win all three phases of a football game in order to win the game as a whole, but the Seahawks didn't want to hear that. Not only did they win every phase of the game, they dominated it. If the 'Hawks only had the point from the opening 12 seconds of each half, they would've won the game by one. If all of the points from their offense are taken away, they still win the game by seven. They had more touchdowns than the Broncos had yards per play. They had more explosive plays. They had less turnovers. They did everything right, and it was mesmerizing. Ridiculous of amounts of respect to Peyton Manning, who is the greatest regular season quarterback of all time, and probably one of the top five qb's ever. But the Seattle Seahawks dominated him yesterday, just as they dominated every single part of that game. Soak it all in Seahawks fans, because your team just beat the best offense in NFL history 43-8.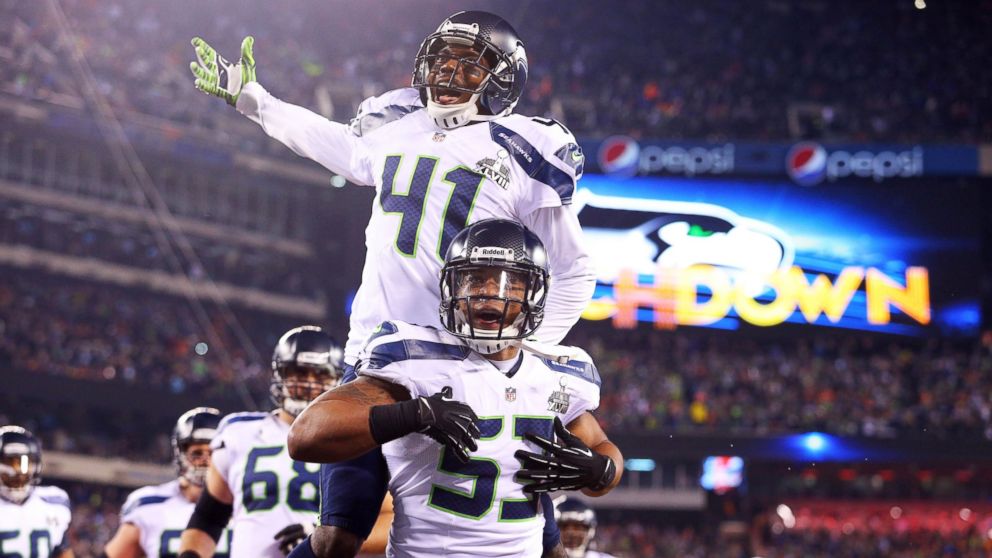 The defense as a whole played its best game of the season.
ABC News
In the 2002 Super Bowl, the New England Patriots did something unprecedented, they were introduced as a team. No individual names were read, and they came out together. Obviously they went on to beat the "Greatest Show on Turf" after being double-digit underdogs. The point is, I believe that no single player should've won the Super Bowl MVP yesterday, but that it should've been given to the team. At the very least, to the entire defense. That is no insult to Malcolm Smith, because he played an outstanding game. But there is no way you can say he was any more deserving of the MVP than Kam Chancellor, Cliff Avril, Russell Wilson, Percy Harvin, or any other member of the Seahawks. They played as a team the entire season and they won as a team.
Pedestrian (adj.) – lacking in vitality or distinction, commonplace. This has been the word often used to describe the Seahawks receiving corps, most notably by ESPN analyst Cris Carter. A word I would use to describe their play yesterday would be a lot closer to fantastic. Percy Harvin was electric. Doug Baldwin came up big every time we needed him to. Jermaine Kearse was playing pinball out there, with the defenders bouncing off him. I no longer have any fears about this group of receivers going forward and while I think it is likely and probably wise that the 'Hawks draft a receiver this year, I now think it should be prioritized well below offensive line, which was not the case beforehand.
Jermaine Kearse had a monster day and represented UW well.
Seattle Times
The NFL imposed a hard salary cap in order to prevent dynasties from happening. Without the ability to pay all of a team's best players the money they want, many teams will be forced to let players go, which naturally prevents that team from winning another championship. This team however, is one that has the potential to buck that idea. It is not a guarantee it will happen. It's probably not even likely. But it's possible. They have the best young talent in the NFL, with only two of their stars having contracts up after next year, and they have the best General Manager in football. With John Schneider's ability to draft well and Pete Carroll's ability to develop talent, the Seahawks could conceivably let a few guys walk and still succeed. Furthermore, because they have the ability to acquire talent for very cheap, it is conceivable that they keep Russell Wilson and the entire Legion of Boom. If you don't believe me, go ask @DavisHsuSeattle on Twitter. He is a salary cap genius and will prove you wrong. Point being, the 'Hawks are here to stay so let's enjoy the ride.
This being the last game of the season, it is naturally my last "Takeaways" post. I hope I could help educate you on the game while being the least bit entertaining as well. I highly encourage you to keep following the Seattle Sports Soup team even if you are only here for the Seahawks. We are adding writers and will have high quality content for every level of fan for every Seattle sport. Thanks for a great season 12's.
Thanks for reading and follow us on Twitter @seasportssoup! Like us on Facebook as well. Keep checking back for more updates.