By Jackson Safon
After beating the Eagles 26-24, the Saints have earned a trip to Seattle for a playoff matchup against the Seahawks on Saturday with kickoff at 1:35 PM. As most know, this will be the second time the Saints will travel to Seattle this season as in week 13 the Saints came to the Clink and got drubbed, 34-7. This weekend's game will no doubt be different however as everything ramps up in the playoffs. The Seahawks are no doubt the better team, but as the 7-9 'Hawks learned in 2011, anything can happen in the playoffs. For this very reason, the Seahawks should not and will not take the Saints lightly, who are capable of beating any team at any time behind their veteran leader Drew Brees. To take the analysis to a whole new level I will compare each position grouping to each other, as I did in the playoffs last season.
Russell Wilson vs. Drew Brees
Drew Brees is a seasoned veteran at this point in his career and he has been elite ever since he came to New Orleans. Brees set the NFL passing yards record last season and is surrounded by a dynamic cast of playmakers which means he can create a big play at any time. Russell Wilson on the other hand is only in his second season and does most of his play-making on his own, without an elite receiving corps. I believe that the Seahawks receivers are significantly underrated, but they are still not elite, and much of the success of the Seahawks passing game comes from the play action and Russell Wilson making great throws into tight windows. Both quarterbacks have different styles but have been compared endlessly because of their similar heights. Drew Brees is one of the few truly "elite" quarterbacks in the NFL, but because Wilson is playing at home I will call this one a push. Seahawks: 1 Saints: 1
Drew Brees is the unquestionable leader of this Saints team.
Let's Move
Marshawn Lynch/Robert Turbin vs. Pierre Thomas/Darren Sproles/Mark Ingram
Pierre Thomas missed Saturday's Wild Card game because of a chest injury and should be considered questionable for the upcoming game against the Seahawks, but when he does play, he is a very solid and underrated all-around back. Marshawn Lynch is one of the most complete running backs in the NFL with a bruising style and highly underrated pass-catching ability. Robert Turbin and Mark Ingram are similar downhill runners with Ingram having slightly more explosiveness. Darren Sproles is an x-factor and one of my favorite players to watch, but the Saints don't seem to utilize him as much as they could. If he played more snaps I would give this to the Saints but because of his limited playing time and Thomas' injury, this grouping goes to Lynch and the 'Hawks. Seahawks: 2 Saints: 1
Percy Harvin/Golden Tate/Doug Baldwin vs. Marques Colston/Kenny Stills/Lance Moore
This is an interesting one because Percy Harvin's health is a bit of a wild card. If Harvin plays and is 100% it would be hard to argue against the Seahawks receiving corps, but if Harvin has to be replaced with Jermaine Kearse, the debate becomes much closer. Marques Colston is aging, but he is still a big and physical receiver with great hands and an even better rapport with Drew Brees. Kenny Stills is a young speedster out of Oklahoma who can truly take the cap off a defense, and Lance Moore is a dependable slot receiver who has been a favorite target of Drew Brees for years. I have a gut feeling that Percy Harvin plays however and I also don't think the dynamic Golden Tate and always dependable Doug Baldwin are chopped liver. Baldwin is not talked about nearly enough and I think he has a big game. Receiver nod goes to the 'Hawks. Seahawks: 3 Saints: 1
Zach Miller/Luke Willson vs. Jimmy Graham/Ben Watson
Jimmy Graham is the best tight end in the NFC.
WBRZ.com
The Saints offensive line is led by multiple time pro-bowler Jahri Evans at right guard, but the Seahawks line has multiple All-Pro's in Max Unger and Russell Okung. Breno Giacomini is no slouch either on the opposite tackle of Okung. The Saints offensive line does a good job of protecting Drew Brees and they really outmuscled the Eagles defensive front in the run game on Saturday, but they don't stack up to the Seahawks o-line. Seahawks: 4 Saints: 2
Cameron Jordan is having an outstanding season for the Saints as he is top five in the NFL in sacks, but he is the only true stud on the Saints d-line, whereas the 'Hawks line doesn't really have any holes. Michael Bennett, Tony McDaniel, and Brandon Mebane on the inside create an insane amount of inside pressure while Red Bryant, Chris Clemons, and Cliff Avril are just as relentless on the outside. The 'Hawks are very deep at all d-line positions and have run stoppers as well as pass-rushers. Seahawks: 5 Saints: 2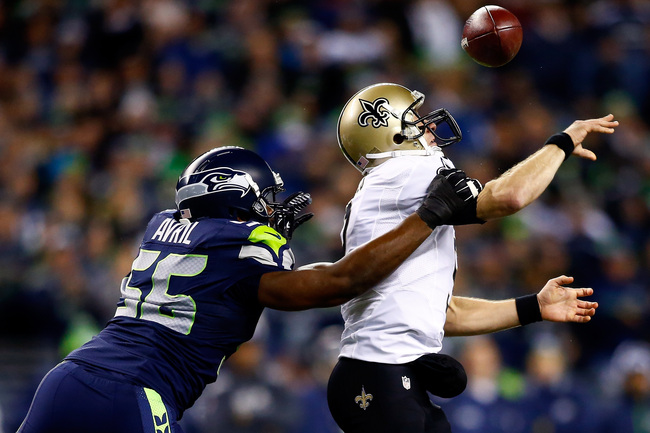 Cliff Avril could have huge game, just like he did in the teams' first match-up this year.
Bleacher Report
The Seahawks linebacking corps is very strong with Bobby Wagner in the middle flanked by Bruce Irvin and Malcolm Smith. Irvin is a pass-rushing extraordinaire while Wagner and Smith are versatile and can succeed in all parts of the game. The 'Hawks have lost K.J. Wright however to a foot injury and it doesn't look like he will be back for this Saturday's game. While Malcolm Smith has filled in admirably, he is not the same as Wright, who is often called the "screen sniffer". This will be a big loss in this game especially as the Saints are particularly effective in the screen game with both Pierre Thomas and Darren Sproles. The Saints linebackers are pretty dang strong as well led by veterans Curtis Lofton and David Hawthorne on the inside, as well as pass-rusher Junior Galette on the outside. These guys have been playing well as a unit and because of the 'Hawks loss of K.J. Wright, I would call this one a tie. Seahawks: 6 Saints: 3
The Saints secondary has been held intact most of the season by terrific rookie safety Kenny Vaccaro, but now that he is out with an injury they are just a bunch of guys back there. The Seahawks on the other hand have the best secondary in the league and have the stats to prove it, leading the league in passing yards allowed and interceptions. Earl Thomas and Richard Sherman are both DPOY candidates and anchor a secondary that is unmatched in today's NFL. Seahawks: 7 Saints: 3
The Seahawks have the best special teams unit in the NFL and it isn't close. Steven Hauschka is one of the best kickers, Jon Ryan is one of the best punters, and their kickoff and kick return coverage is spectacular. No contest. Seahawks: 8 Saints: 3
Obviously the Seahawks have better position groups and are simply a more talented team as a whole, but in the playoffs anything can happen. And while I know the Clink is in a league of its own, it took a miraculous Andrew Luck comeback to prevent the home teams from going 0-4 in the wild card round. Just a thought. Expect this game to be closer than the week 13 contest but the 'Hawks will still come out with a victory. 27-16.
Thanks for reading and follow us on Twitter @seasportssoup! Like us on Facebook as well. Keep checking back for more updates!