by Jackson Safon
First I would like to start off by apologizing that we could not get a podcast out last week. We had said we would make a new one every two weeks, but because of our schedules and each of the two of us getting sick, we just
couldn't
make it happen. That's what this article is about. Making it up to you. Like good, true people because we love all of our readers. There will be ideas on all aspects of Seattle sports so you will be able to know what has been going on in the last few weeks.
Seahawks
Obviously the only news with the Hawks will be free-agent signings and a look ahead to the draft, but that does not mean nothing has happened. It is clear that the Hawks main needs are defensive line and wide receiver, which are two positions that are deep either in free agency, the draft, or both. A couple of names in free agency the Hawks could look at are Paul Kruger and the recently released Dwight Freeney. These are both guys on the older side of their careers, but who still have some good years left and could be great to pair with Chris Clemons on the ends of the defensive line. If the price is right, Henry Melton could also be an excellent option for the 'Hawks. Wide receiver is a position that should be deep in the draft which should help the 'Hawks get a young, talented, and cheap playmaker. A couple of names to look for are Tavon Austin, the speedster, slot receiver out of West Virginia and DeAndre Hopkins, the all-around stud from Clemson. Both are guys that could fall to the Hawks at their 25th pick, and be valuable additions to the team.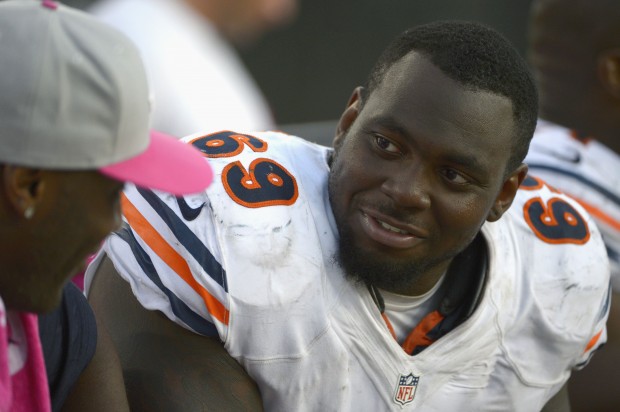 Henry Melton will get PAID this
off-season
as he is in high demand.
Phelan M. Ebenhack, The Associated Press
Mariners
Despite pitchers and catchers just reporting to spring training recently, and now position players, the news around the M's has been all on Felix Hernandez. He recently signed an extension for seven years and $175 million. This makes him the highest paid pitcher in the history of baseball. This in itself is big news, but the reason it got so much hype is that there was word Felix had an elbow problem which caused a snag in the deal. Everything ended up being worked out, and there was a clause added to the deal which stated if Felix missed about 130 or more days in a single season on the DL, then the Mariners could have a club option for an eighth year at only $1 million. It's great that everything could get worked out, and we are all looking forward to another outstanding season from King Felix.
Sonics
The deal that would move the Sacramento Kings to Seattle is still in flux and working itself out, because there is a deadline of March 1 that essentially allows another group to make an offer and refute the deal already made between the Maloofs and Chris Hansen. Sacramento Mayor Kevin Johnson is continually fighting the Seattle group and trying to keep the Kings in Sacramento. He has supposedly scheduled a meeting with NBA Commissioner David Stern about the matter and Stern has come out and said things that seem to support both sides. However, Stern never had that meeting with Johnson and the two men did not speak at the all-star break. It's unclear how this is possible, but he has said that Seattle is a great market but also has said things to the tune of Kevin Johnson is making a great pitch to keep the team in Sacramento. Basically, since the initial report came out about the potential deal to move the Kings to Seattle, there has been a lot of running in circles with nothing actually happening. Sort of like the plot of Identity Thief (just saw it, very average). The NBA Board of Governors will have the ultimate say and they will decide whether the Kings stay in Sacramento or move to Seattle.
Chris Hansen is working his hardest to get NBA basketball back in Seattle.
Huskies
For all news on the Huskies, be sure to check out The Husky Haul (@HuskyHaul) and UDUBNation.com (@UDUBNation). I am now writing for the Haul and Marshall is writing for UDUBNation, so those are the places to find the latest and greatest for all things Huskies.
Thanks for reading and follow us on Twitter @seasportssoup! Like us on Facebook as well! Keep checking back for more updates.