Every week, whether it is a win or a loss, people will react and overreact to the Seahawks game. Things will get blown out of proportion, important things will go unnoticed, and some things will be hard to explain. That's why I am going to start writing this weekly column after every Seahawks game (I know, it's a little late in the season to start a new column) to help fans digest the game and understand what to take away from the win or loss.
1. Zach Miller Earns His Contract
Up until now, Zach Miller has been a very pedestrian tight end with good blocking skills, but receiving yardage that has been below expectations. I personally hadn't seen anything recently that would suggest bucking this trend either. Until Sunday. Zach Miller came up with big play after big play, starting with his game-changing effort on a 3rd and 13 play early in the game. The Seahawks were being shut out to this point, and really hadn't been able to get anything going on offense. This was until Zach Miller caught a ball about eight yards downfield, spun, dodged a couple defenders and made a great effort play to get the first down. The Hawks ended up getting a field goal on this drive, but that was the play that really got the offense back in sync once again. But Miller wasn't finished there. In the second half, he came up with another big conversion on 3rd and long when the Redskins brought pressure and Wilson dumped it off to Miller only one yard past the line of scrimmage. Miller then ran around a defender and picked up another key first down. On that same drive, Miller caught a key two point conversion to give the Seahawks a seven point lead. In my opinion, Zach Miller was the player of the game, and games like this show why we were so eager to get him from the Raiders a few years ago. Takeaway: Zach Miller is ready to make consistent, and timely contributions to this team.
Zach Miller came up big when the Seahawks needed it the most.
Daniel Shirey-USA TODAY Sports
2. Defense Started Slow, Finished Strong
The vaunted Seahawks defense, allowing just over 15 points per game in the regular season, did not show up in the first quarter. They were completely dominated in the trenches and through the air, and they ended up allowing two touchdowns on the Redskins first two drives. Thankfully, the defensive unit really settled down and actually shut them out from then on. The takeaway here is that when playing on the road, the defense just doesn't come out with nearly as much energy. This is not the first time this has happened, as shown by the Bears game in week 13, the Lions game in week 8, and the Cardinals game in week 1. At this point, a slow start by the defense has to be expected, which could be problematic against a potent, quick strike offense in the Falcons next week. The good news is, after the slow start, the defense really comes around and starts playing how we know it can play. We will see how they play next week. Takeaway: The defense needs to come out with more energy on the road if we are to keep advancing in the playoffs.
3. Bruce Irvin – Two Big Plays
Bruce Irvin's line on the day: one tackle, one sack. Doesn't seem like he had much of an impact. It also questions the title of this segment, two big plays, how is that possible if he only had one tackle. Well with 2:26 left in the first quarter, the Redskins scored their second touchdown of the game on Robert Griffin III's second passing touchdown. After the play, Irvin hit RGIII late, warranting a 15 yard penalty on the next kickoff. The hit Irvin put on RGIII was a pretty hard one, and Griffin seemed shaken up. After the hit RGIII just wasn't the same explosive player we are used to seeing, and it made a big difference as the Redskins never scored again. Irvin's second big play was in the fourth quarter, when he chased down RGIII for a sack, right as it seemed the Redskins were driving and looking good to score. One play later, the Redskins fumbled the snap and turned the ball over to the Seahawks. Irvin had a big impact on the game and showed that statistics don't always tell the whole story. Takeaway: Bruce Irvin is a timely player who only needs a few plays to make a big impact on a game.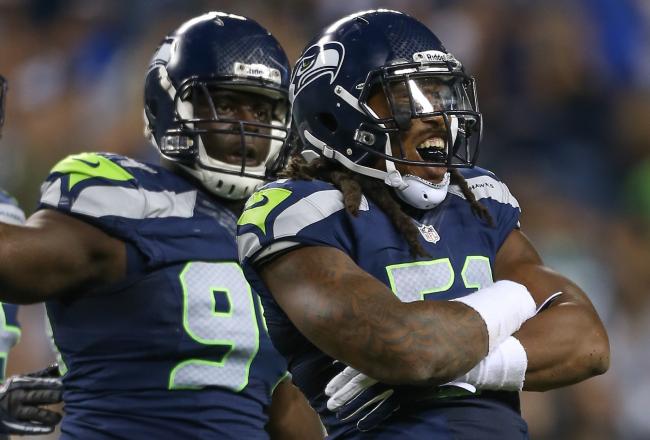 Bruce Irvin provided a timely sack for the Seahawks in the fourth quarter.
Otto Greule Jr/Getty Images
4. Wilson Stays Poised, Outplays Fellow Rookie RGIII
Although getting off to a slow start, Russell Wilson really picked up his game and moved the Hawks offense down the field several times for scores. More importantly, he didn't turn the ball over a single time, compared to twice by opponent, and fellow rookie, Robert Griffin III. Wilson was in control of the game, and was impressive in the first playoff game of his career. Not only did he have a solid day passing the ball, but he ran it with purpose as well, to the tune of 67 yards, and had a career high 28 yards on one of his rushes. The thing to take away from this performance was that Russell Wilson is here and he is here to stay. He played great on the road, in a hostile environment, in a playoff game, all very difficult things to do. If Wilson can continue to be efficient and not turn the ball over, he has a chance to take the Seahawks deeper into the playoffs. Takeaway: Russell Wilson's continued improvement on the road is key not only for this year's playoff run but for Wilson's entire career.
Thanks for reading and follow us on Twitter @seasportssoup! Like us on Facebook as well! Keep checking back for more updates.
Jackson