The Huskies have done a very solid job recruiting thus far. As we enter the last three months prior to signing day, where every day is hectic in recruiting, we take a look at the verbal commitments the Dawgs have received so far and some of the recruits who are seriously considering UW. Here are the Huskies current 18 verbal commitments:
Verbal Commits
Troy Williams (Narbonne HS/Calif.) – QB
Lavon Coleman (Lompoc HS/Calif.) – RB
Demore'ea Stringfellow (Rancho Verde HS/Calif.) – WR
Darrell Daniels (Freedom HS/Calif.) – WR
Sammie Long (Lakes HS/Wash.) – WR
Sean Harlow (San Clemente HS/Calif.) – OG
Andrew Kirkland (Jesuit HS/Oreg.) – OG
Dane Crane (Santa Margarita Catholic HS/Calif.) – C
Elijah Qualls (Casa Grande HS/Calif.) – DT
Andrew Basham (Lynnwood HS/Wash.) – DT
Jaimie Bryant (Tumwater HS/Wash.) – DT
Daeshon Hall (Lancaster HS/Texas) – DE
Marcus Farria (Centennial HS/Ariz.) – DE
Connor O'Brien (Santa Margarita Catholic HS/Calif.) – OLB
Caleb Tucker (Ouachita Parish HS/Louis.) – OLB
Sean Constantine (Bellevue HS/Wash.) – MLB
Kevin King (Bishop O'Dowd HS/Calif.) – CB
Cameron Van Winkle (Mt. Si HS/Wash.) – K
The class so far, made up of mostly three and four-star players, is a class that can come in and make an impact on the program right away. Whether it is on the field in games or improving the starters in practice, this class has displayed lots of determination and heart. This class isn't even near done either as Sarkisian and his staff of ace recruiters look to add some more top-tier talent. Here is a look at some of the remaining targets on the board and the kind of shot the Huskies have at landing each recruit.
Washington's ace reruiter, Tosh Lupoi.
Kim Grinolds/Dawgman.com

Players UW is Currently Recruiting
Tahaan Goodman (Rancho Cucamonga HS/Calif.) – S
This long and hard-hitting safety has been considering the Huskies for a while now. He has family in the South and has been considering LSU, but recently has been focusing on four schools, those being UCLA, Oregon, USC and Washington. The Dawgs have a shot at landing this big-time recruit, but I think he ends up heading to L.A. to play for the Bruins.
Max Redfield
(Mission Viejo HS/Calif.) – S
This kid is a player. One of the best safeties in California, if not the west coast, is a current USC- commit, but all those USC commits will be taking their visits as they never know when their scholarship offers could be lifted with the limited scholarships. Redfield was recently wowed by his trip to Notre Dame and has always consistently mentioned the Ducks, Irish, Huskies and Trojans in his top schools. The only way the Dawgs have a shot with him is if they impress him on his official visit up to Seattle for the Utah game. I still think he will end up at USC.
Myles Jack (Bellevue HS/Wash.) – LB
This pure athlete has always been on the Huskies radar. Ever since he moved up to Bellevue from the South, his recruitment and popularity has blown up. Even though he is currently committed to UCLA, the Huskies have always been in contact with him. He has been to every Huskies home game this season and seems to be wavering in his commitment a little bit. Even with this waver, I still think he ends up as a Bruin.


If the Huskies can get Myles Jack to flip his committment, he could contribute right away for the Huskies linebacking core.
northwestprepreport.com
Danny Mattingly
(Mead HS/Wash.) – TE/LB
A two way athlete, Danny Mattingly impressed many scouts during the course of this past summer. Colleges have given him the option to play either linebacker or tight end at the next level, but I see him as more of an effective linebacker for the Dawgs. Unfortunately, Mattingly is committed to Notre Dame, but the good news is that rumors have come out that he has silently decommitted from the Irish after he took an official visit to Washington for the USC game. However, Mattingly has always been enamored by what Oregon has to offer and if the Ducks accept his commitment, look for him to end up there.
Johnny Johnson
(Central High East Campus/Calif.) – CB
When Johnson returned from his official visit to Seattle for the Stanford game, he exclaimed that he had a great time. This visit really put the Dawgs up there with his leaders, Stanford and UCLA, and the Dawgs have a good shot at landing this big-time corner prospect. If he gets into Stanford, he's going there, but if he doesn't, it will be a tight battle between the Bruins and the Dawgs. I think he'll end up as a Huskie if this happens.
Joe Mathis
(Upland HS/Calif.) – DE/OLB
This quick and strong elite pass-rusher is a former UW commit (that was a while ago though). He has all the makings and strength to contribute immediately at the college level and is looking to take an official visit up to Seattle after his high school season is over. The Huskies stiffest competition is UCLA, USC and Utah. I think Mathis will eventually end up as a Dawg again. His love is just too strong.
Other names to watch
: Thomas Duarte, John Ross, Khalfani Muhammad, Riley Sorenson, Eddie Vanderdoes, Cameron Walker, Patrick Enewally, Austin Hooper, Aaron Cochran, Victor Egu, DeOnte Reynolds, Nic Purcell, Randy Gregory, Jermaine Kelly and Chris Hawkins.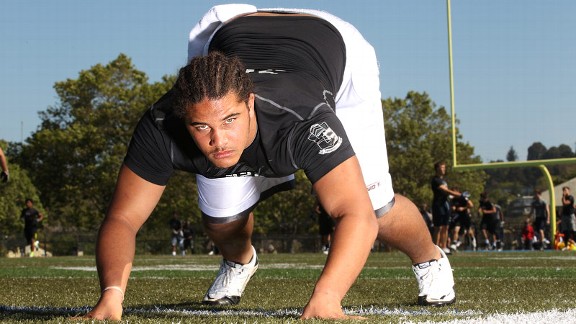 Elijah Qualls looks to convince some other recruits to join him in the Huskies 2013 recruiting class.
In the end, I think the Huskies will come out of these last three months with prospects that have the potential to impact the program in a positive way. These prospects may not be all that highly rated, but in the end, the only thing that counts is their performance on the field. Many top-tier prospects have turned out to be busts and many under the radar recruits have turned out to be stars. You just never know. I think this Huskies staff has the eye and knack for impactful talent and I trust their experience to tell them who to recruit and who not to recruit. I mean their getting paid more money than all of us for a reason, right? I trust our smart and educated coaches.
Thanks for reading and follow us on Twitter @seasportssoup! Like us on Facebook as well! Keep checking back for more updates!
Marshall